On teamwork and transcriptomics:Building bespoke bioinformatics solutions with BioLizard
Two of the qualities that all Lizards pride themselves on are flexibility and striving for excellence. Alexander Koch, our team lead for Bioinformatics, definitely embodies them both.
"If you look at my CV," Alexander says, "You'll see that there is a one-year gap between obtaining my Masters degree and starting my PhD. Throughout high school and university, I spent most of my free time on the water in a rowing boat."
But Alexander was not just any rower – he made it to the national team at both the junior and senior levels! During his year on the water, Alexander got to train and race with Olympic athletes all over Europe. Luckily for us, though, he decided to return to biology after this gap year, and found his way to BioLizard, where he is now a senior bioinformatics scientist and the Team Lead for Bioinformatics.
A fascination for how things work
Ever since he was a kid, Alexander has been fascinated by biology, and understanding how things work. "I remember trying to code games on an old cassette tape-era computer," Alexander reflects, "so it wasn't that surprising after all that I ended up in bioinformatics."Alexander's return to biology after his year of rowing began by studying bio-science engineering, followed by a PhD in bioinformatics. After his PhD, Alexander worked for a few years as a post-doc at Maastricht University, where his focus was on integrating large scale genomics datasets to discover new epigenetic biomarkers that could be used to diagnose cancer and predict patient responses to therapy. Alongside this strong focus on cancer immunology, Alexander also worked on finding new and better ways to visualise large genomics datasets, and ended up developing and publishing several visualisation applications.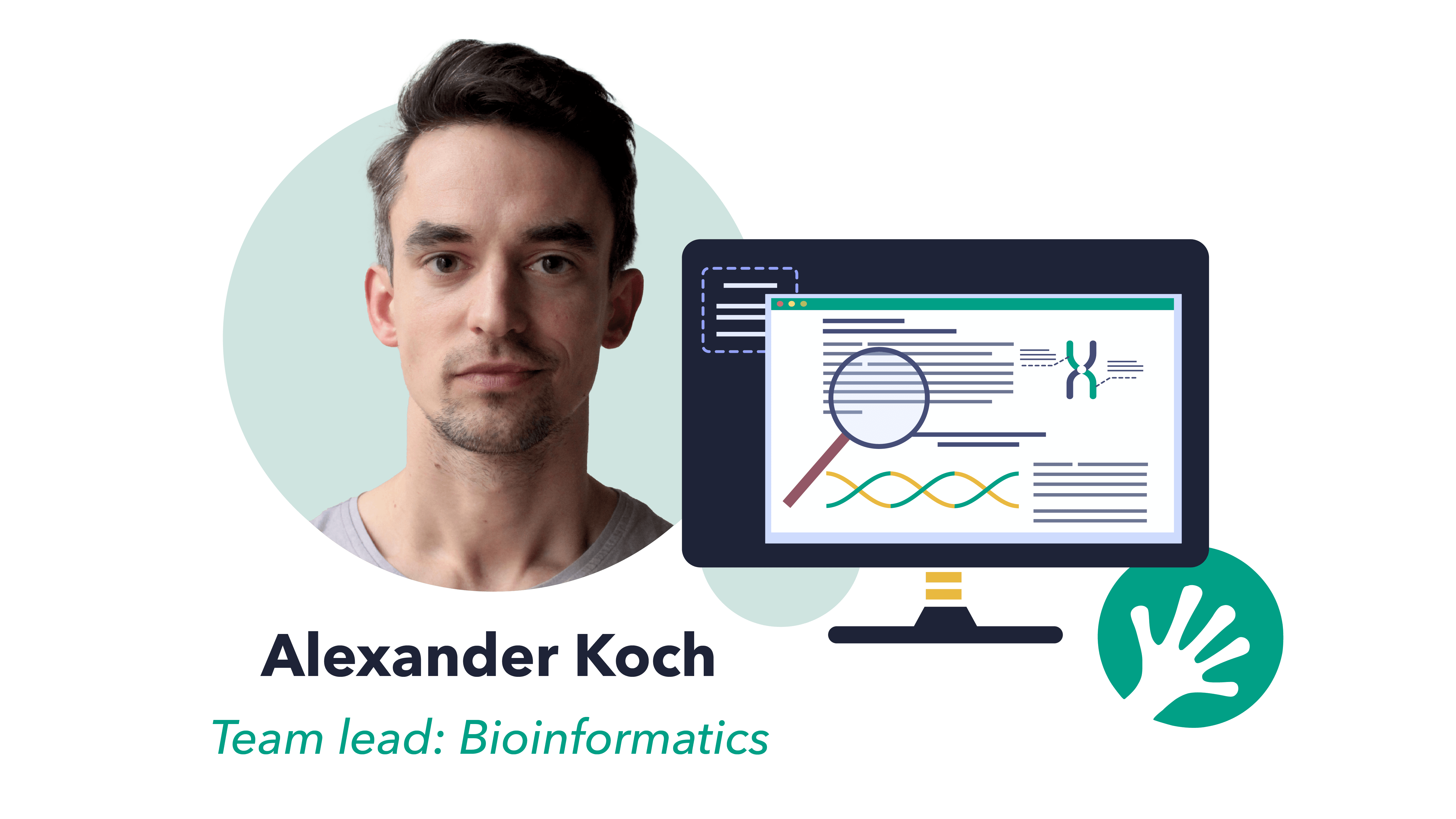 It was this deep understanding of bioinformatics that eventually led Alexander to BioLizard in the fall of 2021. "Together with our Bioinformatics team, I tackle all sorts of omics-related questions, from proteomics to whole-genome sequencing," Alexander says. And of course, he also still gets to work on one of his old favourite topics: data visualisation. Effective data visualisation is an essential component in clarifying the value and insights contained within complex datasets, and Alexander is highly skilled at helping BioLizard's customers achieve this.
As team lead, Alexander has a focus on not only supporting clients by delivering the best science and solutions to them, but also takes care to support his team. Alexander strongly believes that having a happy and motivated team is essential to producing work of the highest quality.
It is my ambition to grow as a team lead, to help the people in my team become better scientists, and to create and maintain a healthy and motivating work environment.
To promote such an environment, whenever it is time to tackle a new project, the team always aims to find a balance between the required skills and the individual team members' interests. Nonetheless, Alexander says, "We all enjoy learning new technologies, and the variety of projects we get to work on gives us the perfect opportunity to master new skills."
Combining expertises to build bespoke bioinformatics solutions
Like the other teams at BioLizard, there is a range of skills within the Bioinformatics team. "We are a very complementary team, with some people having for example more proteomics experience, while others have extensive knowledge of single-cell sequencing analyses," Alexander explains.
Regardless of the project, the core activities of the Bioinformatics team are focused on the processing and analysis of sequencing-related data. This field of expertise has a lot of variety and diversity – the data that our Bioinformatics team is working on might be derived from bulk or single cell data sets, and include anything from genome sequencing to transcriptomics to bisulfite sequencing. The team is also familiar and comfortable with working with other types of omics data, like proteomics datasets. Indeed, when asked about the typical projects that the bioinformatics team works on, they will list off a wide range of activities, like "examining differential protein expression plus post-translational modifications", "cell type deconvolution", and "transcriptomics, proteomics, and whole genome sequencing for biomarker discovery". Give them omics data, and they will show you its value.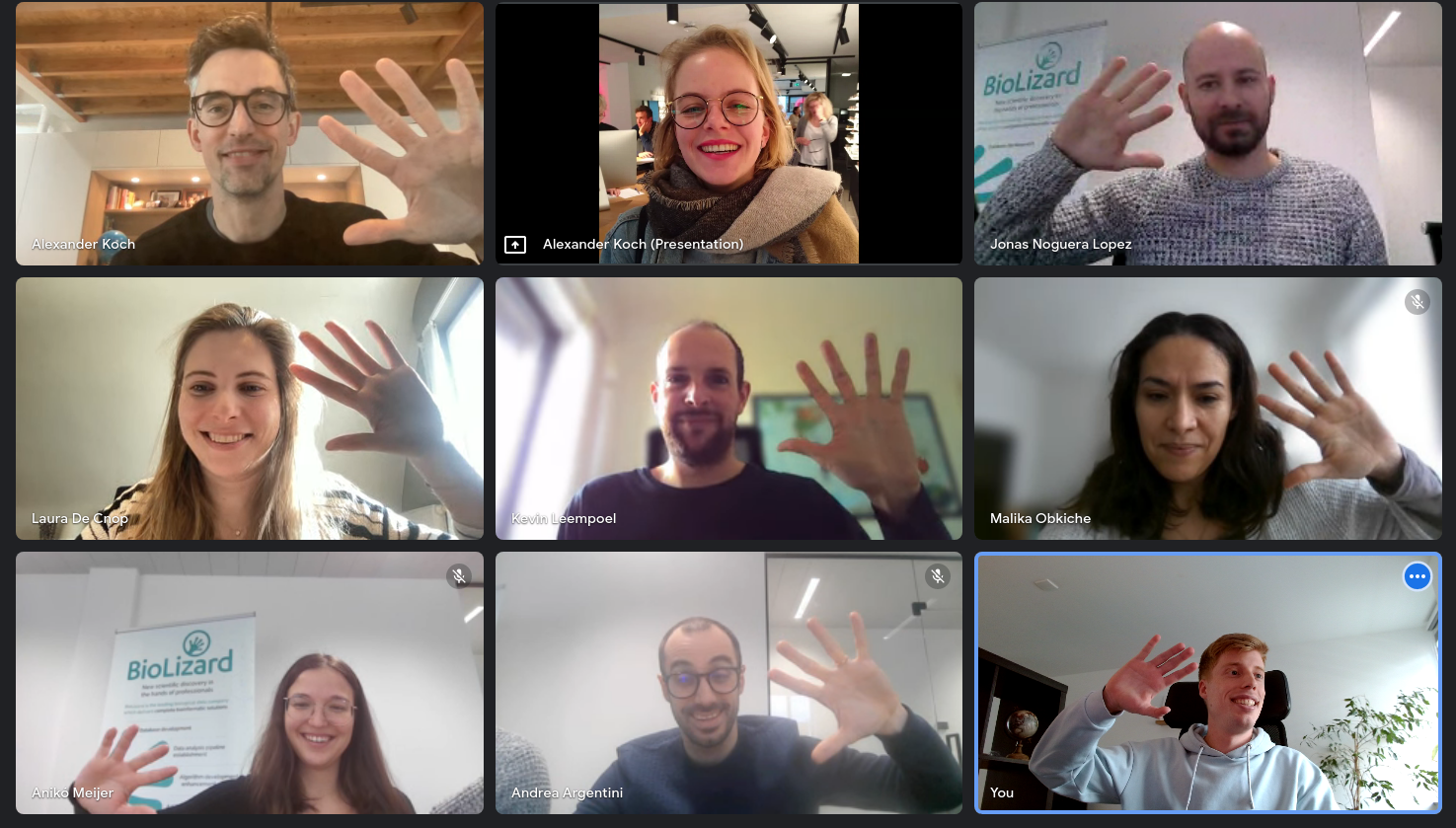 The Bioinformatics team: (Top left to right) Alexander Koch, Tine Goovaerts, and Jonas Noguera Lopez. (Middle left to right) Laura De Cnop, Kevin leempoel, and malika Obkiche. (Bottom left to right) Aniko Meijer, Andrea Argentini, and Luc Hendriks.
"While most of our work is centered on processing and analysing omics data to come to biological insights," Alexander says, "We do often collaborate with the Data analytics & AI and Software & IT Architecture teams. A typical example would be a project in which we perform a differential expression analysis on an RNA-sequencing data set, but the client would also like to build a predictive model on the same data and perhaps an interactive dashboard to further explore the data and results." By collaborating, the different BioLizard teams can build a bespoke solution for the unique needs of each client, which incorporates the capabilities of all of our Lizards.
Both in a boat, and at the office, it is clear that Alexander values teamwork and collaboration. As well as supporting his own team, Alexander often collaborates with the other teams at BioLizard, such as our Data Management team. In fact, he recently co-presented a webinar on the topic of Data Management, together with our team lead for Data Management, Yves Muyssen, and in collaboration with flanders.bio. You can watch it here!
Would you want to collaborate with us, too, to gain access to new, data-driven insights that can give your life sciences company a competitive edge?