Therapeutics

We support you in data-driven research, with the ultimate goal of bringing the best therapeutics to patients.
Data-driven therapeutics discovery and development
At both the pre-clinical and clinical stages, we support your therapeutics discovery and development by leveraging our expertise in bioinformatics, predictive analytics & artificial intelligence (AI), bespoke software development, and data governance & architecture.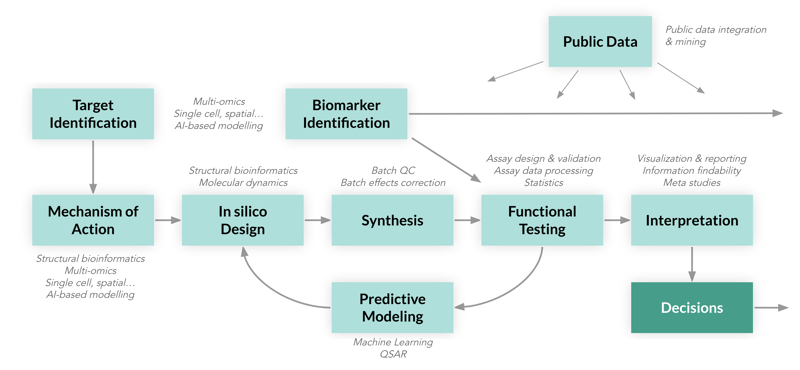 Adding value across your discovery process
We strongly believe that creating data-driven biological insights requires the combination of computational power with human input and collaboration.
Depending on your unique data needs and requirements, we support you with a variety of tried-and-true and state-of-the-art tools, alongside our combined expertise in data science and biology. This allows you to efficiently transform your data into actionable hypotheses and decisions - and to keep your competitive edge.
Biomarker discovery, development, and validation
To support you in de novo discovery and validation of biomarkers, extracting insights from existing datasets, and replicating or validating previous publications, we make use of our harmonized deep biological understanding and hands-on data science skills. This, paired with our industry leading expertise on multi-omics, data mining of public resources, and single cell technologies keeps your therapeutics research at the cutting edge of the industry.

Target identification and validation
To design streamlined workflows that handle the complexity of your data, we leverage bioinformatics, AI, and effective data governance and architecture. We enhance the efficiency and quality of your analysis process and increase the probability of successful target discovery - helping to de-risk and speed up your therapeutics development process - using our extensive experience in multi-omics analysis, single cell analytics, and more.
In silico screening
We help you to optimize your selection of promising drug candidates to save you time in the wet lab, using structural modeling, molecule modeling, structure-activity relationships, virtual high-throughput screening, and machine- and deep learning algorithms. By implementing high throughput in silico workflows to screen and score small molecule and biological therapeutic candidates and optimize novel leads, we enhance the efficiency, quality, and probability of success of your drug discovery pipeline. We can also support you by building in silico libraries for your specific use cases, in in silico compound design, or in silico screening for drug repurposing potential. Whether you want to leverage your own in-house data, publicly available data, or a mix of both, we can support you in transforming complex biomedical datasets into actionable insights.
Microbiome analysis
Changes in microbial communities can impact health or promote disease, and drug-microbiome interactions can impact drug safety and efficacy. We can support you in projects aiming to accurately predict selected outcomes, such as disease development or antimicrobial resistance; establish causal relationships between microbial community composition or dynamics and those outcomes; identify modifiable risk factors for the purpose of drug development; or find novel biomarkers for microbiome-associated diseases.
Mechanism of action (MoA) studies
Grasping the Mechanism of Action (MoA) of therapeutics is essential for gaining insights into side effects, personalized medicine, patient stratification, and uncovering opportunities for drug repurposing. However, biology's intricate nature often complicates MoA comprehension. We can help you to obtain more detailed insight into the biological processes underpinning the MoA of your therapeutics of interest by, for example...
Integrating multiple layers of omics data such as (epi)genomics, transcriptomics, proteomics, and metabolomics,
Consolidating in-house data together with publicly available data to further refine target identification and improve accuracy, and
Analyzing and interpreting single-cell data to provide high-resolution insights into cellular heterogeneity.
Process automation
We help boost the productivity, efficiency, and quality of your therapeutics research by applying our in-house expertise to develop scalable (bio)informatic pipelines, adhering to top-tier coding practices. We have proven experience in supporting clients in implementing novel workflows spanning from the wet lab to the analysis and data exploration phase, performing quality control and technical checks of existing workflows, and proposing recommendations for next steps to further enhance drug development pipelines. By always implementing user-friendly interfaces, we make sure that you will find it easy to navigate the custom solutions that we build for you. Being vendor agnostic, we impartially assess all tools, platforms, and methods to craft optimal solutions for your specific needs and requirements.
Strategic advice for data-driven research
Defining a winning data strategy that assures that the right (meta)data are collected and stored efficiently, and are accessible to use by the right people, is essential for data-driven research and decision making. A solid strategic plan that is aligned also ensures efficient use of resources, realistic expectations and optimal value generation. At the strategic phase of projects, we utilize our combination of life science and data science expertise to determine the most efficient and effective course of action to leverage your data and achieve your goals.
Let's boost your project to a higher level
When you partner with BioLizard, you get state-of-the-art data analysis pipelines and tools to apply to your current and future research projects - and moreover, you receive end-to-end support that will make it faster and easier for you to turn your data into actionable insights.
We also always ensure to fully explain our data science approach to solving your biological challenges - there's no black box when you work with BioLizard. Our ultimate goal is to empower you through data-driven innovation combined with interactive data exploration, thereby supporting you in extracting actionable insights from your data, and gaining a compelling competitive advantage.

Get in touch
Need assistance? Get in touch with our experts.