Bioinformatics
We understand that your biomedical data is highly complex and diverse, with multiple variables contributing to observed trends. To be able to draw actionable scientific insights from your data, it's important to use the appropriate tools and methods for its analysis and interpretation.
Your partner for bioinformatics
We have proven experience working with biologicals, cell therapies, small molecules, and more, and we offer multiple bioinformatics approaches and software tools to help you get the most out of your biomedical data. To make sure you stay in full control of your results, we provide support throughout the analysis process and fully explain our data science approaches - there's no black box when you work with BioLizard.
What's in it
We know from experience that every project is unique. That's why we create bioinformatics solutions that are specifically tailored to your requirements and strategic goals, and take both your experimental or clinical design as well as all relevant biological data into account - while ensuring that all work is performed in alignment with best practices for data security and privacy.
Our expertise at your fingertips
Through leveraging our combined computational and biological knowledge, we have proven expertise supporting clients in:
Developing and applying a range of statistical methods tailored to specific problem settings in both clinical and non-clinical datasets
Integrating multi-omics data with other data sources, both in-house and in public databanks
Developing bioinformatics proof-of-concept studies on client in-house platforms to support R&D activities In silico characterization of organisms, genetic material, and peptides
Mining publicly available data to screen for target, drug or biomarker candidates in silico
Explorative analysis of large datasets, from quality control to result visualization
Detection of structural variants from whole genome sequencing data
Performing structural bioinformatics analyses, such as functional site prediction
… And more!
We are very happy to have partnered with BioLizard for the microbiota analyses for one of our academic studies. BioLizard provided us with a great team that was able to understand our needs and come up with customized solutions. Working with BioLizard has resulted in an extended academic collaboration and conclusive results which have been a great asset to our research project.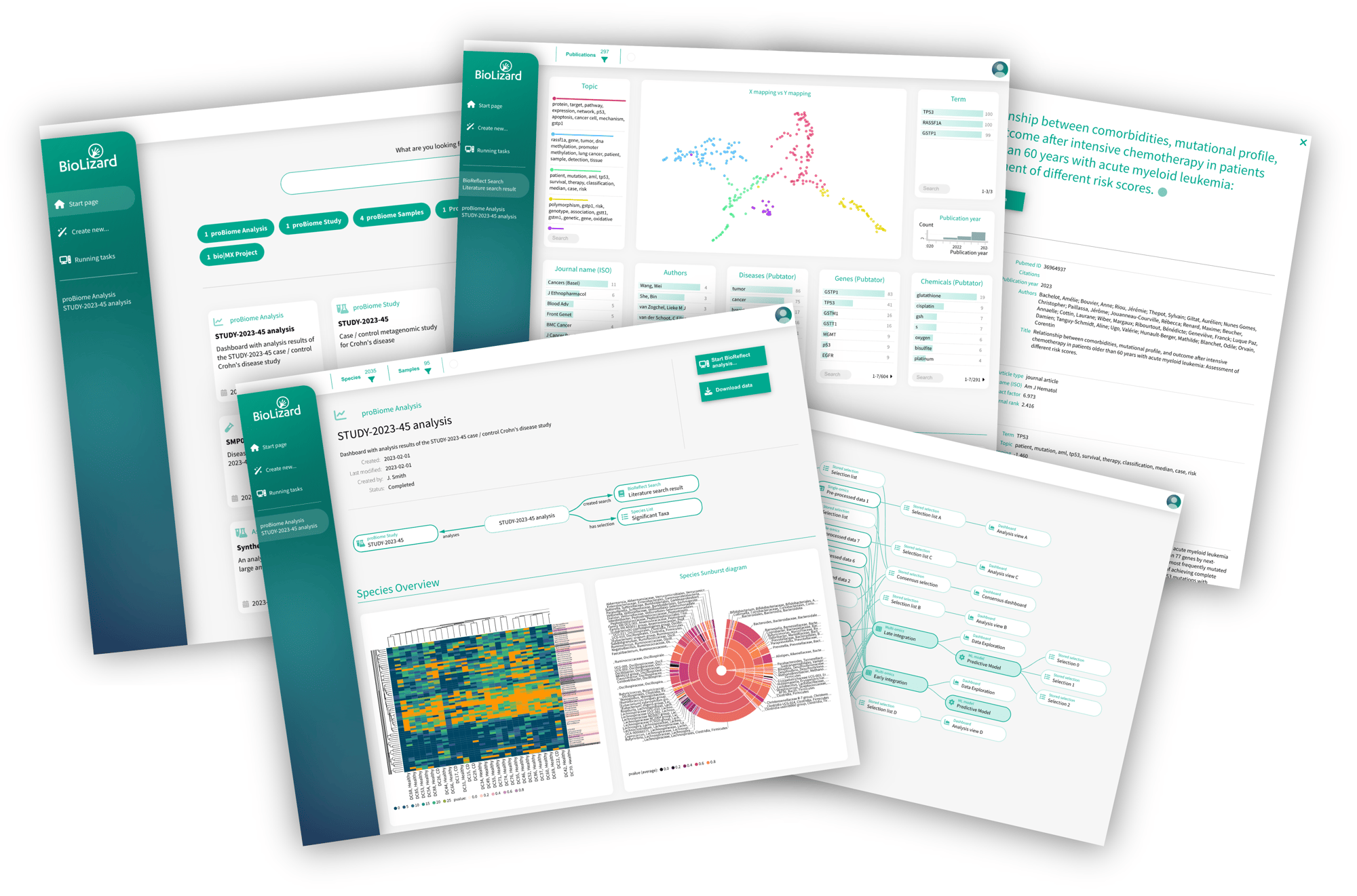 Enter the BioVerse
We strongly believe that creating data-driven biological insights requires the combination of computational power with human input and collaboration. We have designed Bio|Verse to facilitate both.
Bio|Verse empowers you to grapple with the vast complexity of biomedical data, and turn it into clear, interpretable, and actionable insights - with no coding expertise required.
Let's boost your project to a higher level
When you partner with BioLizard, you get state-of-the-art data analysis pipelines and tools to apply to your current and future research projects - and moreover, you receive end-to-end support that will make it faster and easier for you to turn your data into actionable insights.
We also always ensure to fully explain our data science approach to solving your biological challenges - there's no black box when you work with BioLizard. Our ultimate goal is to empower you through data-driven innovation combined with interactive data exploration, thereby supporting you in extracting actionable insights from your data, and gaining a compelling competitive advantage.

Get in touch
Need assistance? Get in touch with our experts.